On March 10th we had a return visit from local author and comic writer Richard O. Smith to talk about "The First Englishman to Fly". The subject was James Sadler (b.1753), whose family ran a pastry shop in Oxford High Street. James, who appears to have had no formal education, emerged somewhat mysteriously as a man of science and technology in his late twenties. He left sparse written evidence of his exploits, having in the words of close friends "little grammar" but biographers including Richard have made good use of contemporary letters and accounts, including local press such as Jacksons Journal in Oxford, to piece together his achievements and adventures.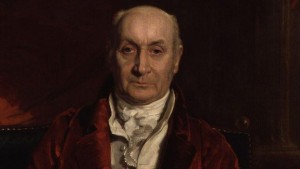 The first hot air balloon ascent is attributed to the Montgolfier brothers in France in 1783. It is not, however, generally known that they wrongly believed the driving force to be the smoke from the fire below the balloon. They were paper manufacturers and had seen small pieces of the material rising up their chimney in the smoke. Sadler worked out that hot air was the driving force and he designed and built the first English balloon. He made his first flight in 1784 from a site near the Botanic Garden and landed safely in Water Eaton.
Although we are all familiar with modern hot air balloons and their propane burners, the pioneers soon resorted to hydrogen (made by adding acid to iron filings). James Sadler himself worked out that the gas is fourteen times lighter than air. He became a national figure, having organised a series of well advertised balloon events around Britain including one in Manchester in1785. A new Square in the town has been recently named after him.
In the same year Sadler gave up ballooning and went to work for the Admiralty in Portsmouth. Here he redesigned and improved naval guns with such success that Nelson declared that he would  have as many of Mr Sadler's guns as possible for his ships. After twenty five years Sadler fell out with his employers and returned to ballooning. His comeback flight included a caged cat which was returned to the Oxford owner after a safe descent at Headington. In1811 he took off from Birmingham in a force seven gale heading north. He eventually landed in Boston Linconshire, remarking that even travelling in such a high wind he could maintain a single flame.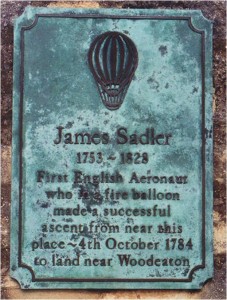 Our speaker grew up in Linconshire and his interest in Sadler was kindled by reading an account of this flight in the Boston library. Richard also illustrated the " balloonamania" which gripped Regency England with balloon hats for men and women and the widespread use of balloon motifs on crockery and tankards.
James Sadler had many ballooning adventures during this period including a night crossing of the Bristol Channel and a crossing of the Irish Sea. He survived them all and finally died in 1828 aged seventy five. His son Wyndham was less fortunate and perished in Blackburn having flown into a mill chimney.